FULL-CYCLE WEB DEVELOPMENT SERVICES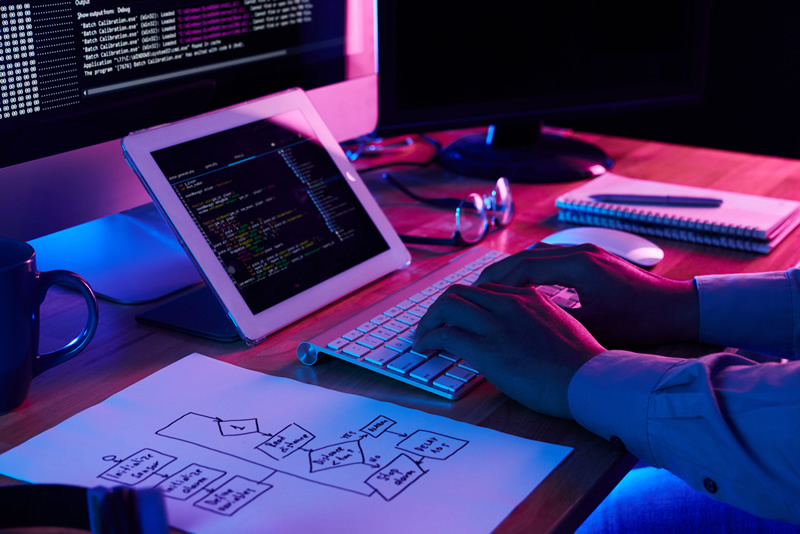 We provide end-to-end web development services, from creating a prototype to building a complex web application, redesign existing web apps or migrate legacy code to the newest technologies.
When you choose New Tech Vision, you choose industry experts with full-stack front-end expertise and a seasoned team of developers who excel at creating clutter-free solutions using the right codes and framework.

Our web design & development team has established a host of effective services to facilitate the growth of your business. Whether you're in need of a simple WordPress website to get your business online, or a more complicated eCommerce website, our web development team will help bring your vision to life.
Web Experts
We have been designing and developing websites and web applications since 1997. Our experts are trained, certified, and experienced across a variety of website platforms.
Website Architecture
We make an easy-to-navigate, logical page structure that helps your users, and the search engines find what they are looking for in small and large web applications.
Modern & Clean Code
Our team utilises up-to-date coding practices with clean modern language codes which help to read, debug and maintain your application in the future.
Optimised Speed
Google has made it clear that they prefer websites that respond quickly, so we don't build just a nice website but also we deliver a great experience to your visitors.
Responsive Design
All of our website applications are developed to look and perform beautifully and friendly on every device your users are using, from desktop to mobile, and tablets.
Latest Trends
We love technology and in a highly competitive market such as a digital one, it is important to foresee changes and learn how to adapt to them for our clients.
Back-End Development
Our team can develop all types of applications using all different common frameworks and languages according to the client's requirements and needs.
Front-End Development
We are a leading front-end web company with experienced professionals who assist you in creating innovative and goal-oriented web apps based on the latest technologies.